weatherRHODES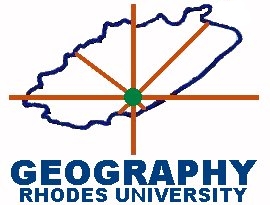 RHODES UNIVERSITY
GRAHAMSTOWN - South Africa

33° 18' 00" S 26° 30' 00"E 585m


WELCOME TO THE RHODES UNIVERSITY WEATHER MONITORING SITE
maintained by the Geography Department

It will take about 20 seconds for you to be redirected to the weather pages themselves


Weather data you will view are collected using Davis Vantage Pro2 Plus equipment supplied by Prodata Weather Systems.

The system is mounted on the Geography Department roof, a position intended for a weather collection installation when it was constructed and occupied in 1985.

Funding for the installation was provided by the office of Deputy-Vice Chancellor (Research) as a central environmental collection point for the University and Grahamstown communities.